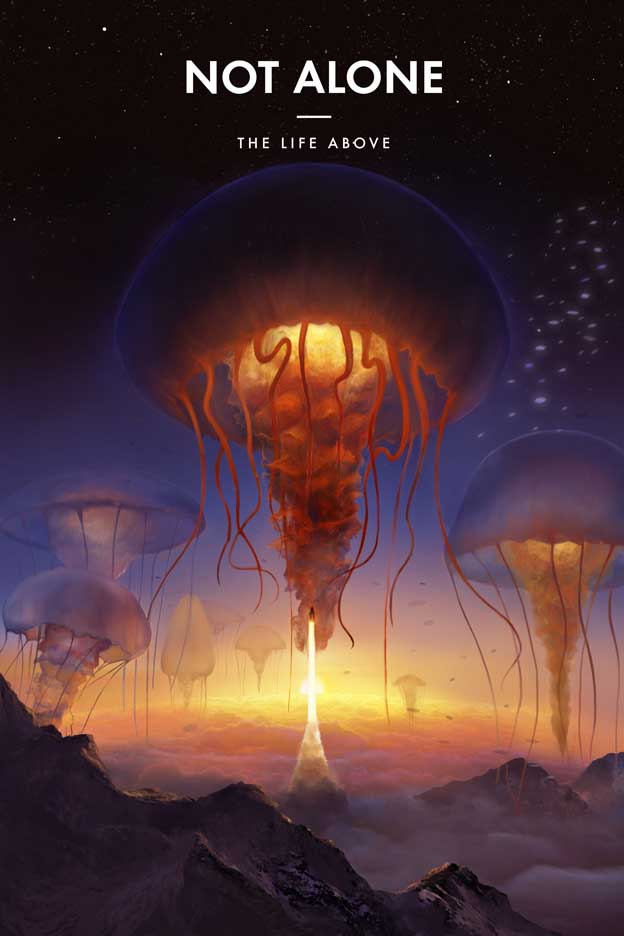 GLOW FILM releases its documentary NOT ALONE: The Life Above…
The film compiles footage from many NASA missions as evidence for life in the atmosphere. Could some UFOs be alive?
NOT ALONE: The Life Above is written and directed by Scott Deschaine. Executive Producer is Brian Leonard. It is narrated by Karen Carson. Camera work is by Michael Fevang. It is edited by Kevin O'Brien. Case art is by Yigit Koroglu.
The documentary is produced in 16 x 9 widescreen high definition, with a running time of 41 minutes. The DVD and Blu-ray versions contain over 90 minutes of uncut NASA footage of lifelike atmospheric objects filmed from the edge of space.
NOT ALONE is available for instant streaming rental or download by clicking here.
NOT ALONE is available on DVD and high definition Blu-ray in our Store.
NOT ALONE presents in stunning high definition:
An introduction to Earth's atmosphere as a potential habitat, with beautiful footage of the sky
An introduction to the mystery of UFOs, with a wide range of archival UFO footage and photographs
A history of the UFO phenomenon, including Project Saucer, Kenneth Arnold and his conclusion that many UFOs are atmospheric animals
An overview of marine invertebrates, showing their wonder and beauty
An examination of the many ways that UFOs resemble jellyfish and squid – some of the most successful sea animals
Amazing footage of giant atmospheric "sprites" – luminous phenomena that scientists say resemble giant jellyfish – up to 100 miles tall!
Actual audio from astronaut John Glenn's first orbits around the planet in 1962, when he saw thousands of luminous particles, like fireflies in the sky
Footage from NASA's 1965 Gemini 4 mission, when astronaut James McDivitt filmed objects from the small window of his capsule
Actual footage from NASA's 1991 Space Shuttle mission STS-39, when a new Cryogenically Infrared Radiance Instrumentation for Shuttle camera (CIRRIS) recorded numerous objects zooming past the shuttle
Actual footage from NASA's 1991 STS-48 Shuttle mission, when the new Upper Atmospheric Research Satellite (UARS) recorded a wide variety of objects moving, pulsing, and changing direction in Earth's atmosphere
Amazing footage from NASA's 1995 Shuttle mission STS-74. As the shuttle approaches the Russian space station Mir, a number of lifelike objects swim around the station, seeming to observe the station and the approaching shuttle
Actual footage from other missions of other objects seeming to swim around the space stations
Amazing actual footage from NASA's 1996 STS-80 mission. Using low light cameras, astronauts recorded a rich variety of objects moving in and out of giant storm clouds
Actual footage of an eerie gathering of lifelike objects as the Space Shuttle watches
Footage from NASA's 1999 Shuttle mission STS-96. The astronauts observe a blob pulsing past the station and watch objects browse around a gigantic storm over Florida.
Actual footage from NASA's 2000 mission STS-101, when astronauts observed a huge pulsing glowing object in the Gulf of Mexico, off the coast of Louisiana
Amazing footage from STS-106 in 2000, when astronauts watched a huge pulsing glowing object race across the United States' Midwest
Footage, photographs, and commentary from STS-115, the 2006 NASA mission when landing of Space Shuttle Atlantis was delayed by the appearance of numerous pulsing objects around the shuttle
Actual footage of an enormous object moving through the clouds over the Amazon river basin, recorded by the crew of STS-121 in 2006
Amazing actual footage of a huge number of pulsing glowing objects in the atmosphere, recorded in 2008 by the crew of Shuttle mission STS-123
Historic and stunning actual footage from Shuttle mission STS-75. This 1996 mission experienced a technical catastrophe that endangered the Shuttle and the lives of the crew. But it allowed them to record an amazing sight – hundreds of objects swimming around a huge satellite tether.
Numerous other recordings of lifelike objects from NASA missions
Consideration of what the reality of atmospheric life could mean for humanity
Proposals for new ways to study the sky to learn more about what may live there
Use this link to share the YouTube trailer:  https://youtu.be/nITJqisurbg
View PDF Press Release (96 kb):
GLOW FILM RELEASES DOCUMENTARY SHOWING NASA EVIDENCE FOR LIFE IN THE ATMOSPHERE
View PDF Press Release (94 kb):
RESEARCHER CLAIMS NASA FOOTAGE MAY PROVIDE EVIDENCE FOR ATMOSPHERIC MEGAFAUNA